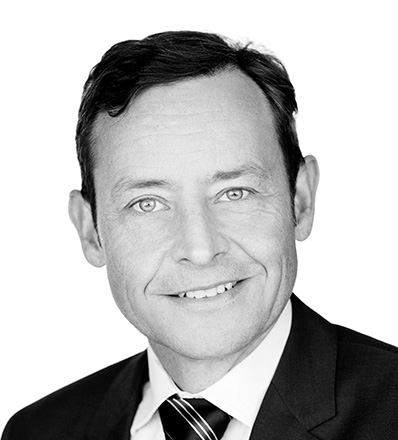 Jens Peter Fabricius
Lawyer (H)
Areas of practice:
Jens Peter Fabricius provides legal advice to companies in situations of potential legal conflicts, where his commercial and legal insight ensures the right solution – whether it is judicial proceedings, a settlement, or the right sparring for the client's management and negotiators. Jens Peter Fabricius ensures that the client knows his legal position and has a correct assessment of his situation.
Jens Peter Fabricius advises in disputes between owners and other partners with intricate business relationships. He has extensive experience with shareholders' agreements, commercial contracts of all kinds, purchase- and development agreements, transportation-, construction- and insurance contracts, of both Danish and international scope.
Jens Peter Fabricius advises Danish and foreign companies in the finance-, transport-, and trade-industries on company law and establishment in Denmark, preparation of general terms of conditions, consumer protection and optimisation of processes, including debt collection processes.
Jens Peter Fabricius provides legal advice to all sizes of commercial entreprises from C20 companies and to sole proprietorships. He often work and coordinate his advice with clients, auditors, lobbyists, or other lawyers, for example in case of major business transfers, situations entailing, risk of public reputation, or situations in which a client wants his second opinion. Jens Peter Fabricius has provided legal advice to hundreds of small and large entrepreneurs, who "challenge" the established market.
Education:
Maritime law and English-American contract law, Oslo University (1990)
Master of Laws from the University of Copenhagen (1991)
Attorney-at-law (1995)
MBA, Supply Chain Management, Arizona State University (1997)
Languages:
English and Scandinavian
Boards and Committees:
Board member in Betty Nansen Teateret
Board member in Copenhagen Light Production A/S
Board member in Return Advisors A/S
Chairman of Frederiksberg Beboerklagenævn
Former employments:
Ministry of Justice
Bech-Bruun
Gjensidige Forsikring
Brandt & Lauritzen
Windahl Sandroos & Co.